Screen Advertisement
in Wash and Walk Coin laundry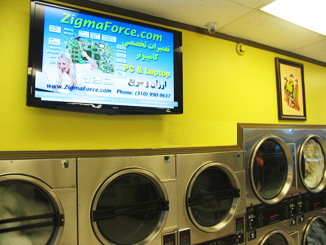 We have installed an advertising media program on a wide wall mounted screen TV providing an excellent visibility for commercial ads.
The advantages of this program are:
1- Watch time: on average each of our clients spend approx 60 to 90 minutes in our coin laundry to wash and dry their clothes, which means each person is watching the ads for approx 90 minutes none stop.
2- Ads are played for 15 seconds none stop and continuously from 6:30am to 10:30pm every day for 365 days per year.
3- Cost effective: considering such a long time show and low cost charges, it is one of the most cost effective method of advertisement to run.
4- Location: Reseda blvd is one of the busiest roads in valley area with diversified demography enabling you to reach vast number of clienteles.
LOW COST and EFFICIENT ADVERTISEMENT.